Issues that can affect the FOOD chain and lead to Food Insecurity
Right now, with the COVID-19 pandemic hitting the world, malnutition and starvation are going to become the next big issues facing the world. While COVID is playing a big part, politics and natural disaster are going to push it to the extreme.
COVID-19 problems
General Problems
World food security at risk as exporters curb sales, importers buy more – Reuters –

posted 03/26/20
Countries starting to hoard food, threatening global trade | The Spokesman-Review –
posted 03/26/20
Coronavirus could double number of people going hungry | World news | The Guardian –

posted 04/12/20
Millions face hunger as African cities impose coronavirus lockdowns – The East African  – posted 04/16/20
Volunteers carry sacks filled with food to distribute to vulnerable residents, during a lockdown by the authorities in efforts to limit the spread of coronavirus Covid-19, in Lagos, Nigeria on April 9, 2020. PHOTO | REUTERS | AFP 
U.N. warns economic downturn could kill hundreds of thousands of children in 2020 – Reuters –

posted 04/16/20
Need for food skyrocketing among poor and unemployed | Coronavirus | capjournal.com –

posted 04/16/20
At least 300,000 Africans expected to die in pandemic: U.N. agency – Reuters –

posted 04/17/20
Coronavirus threatens to trigger new round of global food crisis: China official – Reuters –

posted 04/21/20
Global hunger could double due to COVID-19 blow: UN – Reuters –

posted 04/21/20
Patterns Emerging
One of the largest pork processing plants in US closes due to coronavirus –

posted 04/13/20
'Our supply line is brittle': Thomas Massie warns US could be weeks away from food shortages –

posted 04/13/20
Meat industry warns of possible shortages as more processing plants close: 'Perilously close to the edge' | Fox News –

posted 04/13/20
The president and CEO of Smithfield Foods said the closure of its Sioux Falls plant (not pictured), along with the temporary shuttering of other meat-processing plants, "is pushing our country perilously close to the edge in terms of our meat supply."
US farmers estimated to lose $20 billion in 2020 due to coronavirus crisis – Business – Columbia Daily Tribune – Columbia, MO – posted 04/15/20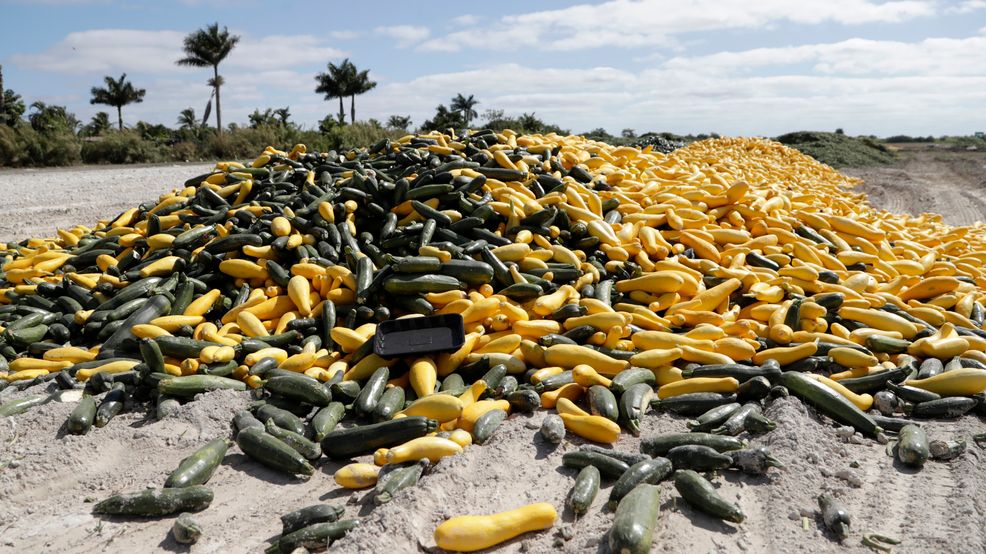 To be plowed under. March 28, 2020 photo of a field in Homestead, Fla ofproduce unabled to be sold. AP Photo/Lynne Sladkey
Company forced to kill up to 2M chickens that won't reach market due to staffing shortages – posted 04/15/20
Why dairy farmers across America are dumping their milk – Erie News Now | WICU and WSEE in Erie, PA – posted 04/15/20
Freezers are Flying off the Shelves Amidst Covid-19 Pandemic – Erie News Now | WICU and WSEE in Erie, PA – posted 04/15/20
Tyson Foods says 2 dead after virus outbreak at Iowa plant | WJLA – posted 04/16/20
Idaho farm gave away potatoes for free so they wouldn't go to waste | king5.com – posted 04/16/20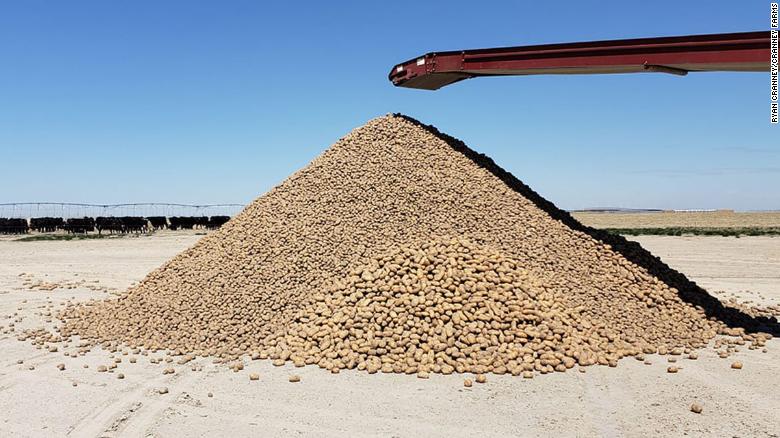 California farmer plows under lettuce after coronavirus shutters restaurant market – Reuters – posted 04/16/20
Coronavirus forced Pa. dairy farmers to dump milk even as Philadelphia buyers needed it – posted 04/21/20
Melanie Younker
POTENTIALLY NEW OR EXISTING FOOD ISSUES
African Swine Fever
Experts predict swine fever could wipe out quarter of global pig herd | The Pig Site – posted 01/06/20
The Big Wobble: Pig Crisis Update: "This is the largest animal disease outbreak in history," there is no cure! Swine fever could be the end of pork: The disease is the black death, (Plague) for pig – posted 01/06/20
'We're very, very worried': Canada's 'unprecedented' campaign to keep out African Swine Fever, from sniffer dogs to sausage bans | National Post – posted 01/20/20
African swine fever one step closer to German pig herds | The Pig Site – posted 01/20/20
New Research Shows AFS Can Survive Double The Time Originally Thought – Swineweb.com – Complete Swine News, Markets, Commentary, and Technical Info – posted 02/12/20
South Korea reports rise in wild boar infected with African swine fever | The Pig Site – posted 02/15/20
New outbreak of African swine fever kills 3,000 pigs in Indonesia | The Pig Site – posted 03/02/20
Vietnam attempts to cut pork prices to curb inflation caused by swine fever | The Pig Site – posted 03/22/20
African swine fever hits domestic pigs in Western Poland for the first time | The Pig Site – posted 03/30/20
Philippines continues to see new outbreaks of African swine fever | The Pig Site – posted 04/03/20
China reports new cases of African swine fever in illegally transported piglets | The Pig Site – posted 04/04/20
African swine fever confirmed in Papua New Guinea | The Pig Site – posted 04/06/20
China's pork imports triple in March while new swine fever cases continue to emerge | The Pig Site – posted 04/19/20
Avian Influenza
USDA APHIS | USDA Confirms Highly Pathogenic H7N3 Avian Influenza in a Commercial Flock in Chesterfield County, South Carolina – posted 04/13/20
Chronic Wasting Disease (CWD) – Prion Disease
Minnesota finds localized CWD in wild deer; new Wisconsin county affected | CIDRAP – posted 02/11/20
Three Counties Have CWD Status Changed – posted 02/11/20
Tests show record number of Iowa deer testing positive for Chronic Wasting Disease – Radio Iowa – posted 02/12/20
21 deer test positive for Chronic Wasting Disease in Virginia | WSET – post 02/27/20
Disease-sniffing dogs among chronic wasting disease research funded by Pennsylvania – pennlive.com – posted 03/07/20
Wild deer in Dakota County confirmed positive for chronic wasting disease – Twin Cities – posted 03/15/20
CWD spreading, sometimes long before discovery | American Veterinary Medical Association – posted 03/16/20
Decapod iridescent virus 1 – shrimp
China's shrimp farmers 'terrified' as deadly virus threatens to destroy lucrative seafood industry | South China Morning Post – posted 04/13/20
A quarter of the shrimp farms in Guangdong province have been infected with a deadly new disease Div1, local farmers say. Photo: Xinhua
Description of a Natural Infection with Decapod Iridescent Virus 1 in Farmed Giant Freshwater Prawn, Macrobrachium rosenbergii – Posted 04/17/20
Liang Qiu 1,y , Xing Chen 1,2,y, Ruo-Heng Zhao 1,3, Chen Li 1, Wen Gao 1,2, Qing-Li Zhang 1,2
and Jie Huang 1,2,3
Epizoodic Hemorrhagic Disease
Hemorrhagic fever confirmed in Harrison County, WV, deer | WV News | wvnews.com
Insect-borne disease kills wild deer in SE Minnesota – Twin Cities
State wildlife officials warn of disease outbreak in Tennessee deer population; some deaths reported | Times Free Press
Over 100 Crawford County deer suspected dead from EHD | Courier Press. This sickly deer eventually died—one of the first confirmed cases of EHD in Crawford County, according to hunter Troy Martin, who sent in the picture from Wauzeka Township.
Virginia Officials Say Deer Deaths Caused By Viral Outbreak – CBS Baltimore
Iowa DNR Says Hundreds of Deer Dead Due to Virus | whotv.com
2,000 White Tail Deer Die From Virus | News Radio 1190 KEX – posted 01/20/20
Newcastle Disease
Chicken-killing Newcastle disease spurs strict guidelines for public employees – Press Enterprise
Chicken slaughter due to Newcastle spread tops more than 1.1 million in Inland Empire – Press Enterprise
New wave of chicken-killing Newcastle disease hits Southern California – Press Enterprise – posted 01/06/20
USDA APHIS | Virulent Newcastle Disease (vND) – posted 01/20/20
Newcastle reemerges, spreads in California | American Veterinary Medical Association – posted 02/11/20